We use only the best PVC and TPO systems
We offer both PVC and TPO single ply systems
Fully prefabricated roofing systems available
Thicknesses ranging from 40-80 mil
PVC systems have a scrim up to 18 by 14 threads/inch, which is the highest in the industry and is nearly impossible to tear
15-20 year edge-to-edge full roof warranties are available on prefabricated systems
Can be used to recover existing roofs or on new roofs
Works well on a variety of roof structures, both flat and sloped
Increased energy efficiency
Northern Lakes Roofing is proud to be an authorized Duro-Last® contractor. Duro-Last® is not only one of the most widely used PVC roofing systems in the country but it is also one of the best. There are a variety of reasons why this is the case. First of all, it has one of the tightest scrims in the industry, with a string density of 18 by 14/inch, it is incredibly durable and will last through almost anything. These systems also can be completely prefabricated to your exact roof specifications and this is available on roofs up to 2,500 sq. ft. This is available in 40, 50, or 60 mil. The benefit of prefabrication is that factory seams tend to be stronger than field seams and create a longer lasting product. Duro-Last® roofs also come with a full range of accessories ranging from trim to flashing to pipe boots and everything in between. The prefabricated systems are also backed by a complete edge-to-edge 15-25 year manufacturer warranty that also covers all Duro-Last® accessories. These systems are completely inspected by a third party after installation to confirm the quality. Northern Lakes Roofing supplies a 2 year workmanship warranty to supplement the manufacturer warranty. Contact us today for a custom quote or to set up a roof consultation.
Duro-Tuff® is another incredible product from Duro-Last® that we are proud to be able to offer to our customers. This system is available in 50, 60, and 80 mil thicknesses, giving you the option of a thicker ply than the traditional Duro-Last® system. Duro-Tuff® comes in rolls that we heat weld on site to create an impenetrable barrier. It offers the flexibility to be able to cover any roof, whether it be 1,000 or 100,000 sq. ft. We also offer a complete range of custom accessories from edge trim to drains and everything in between. Duro-Tuff® is more cost effective than Duro-Last® but is unique in that it still maintains a high quality despite the reduce price tag. It is also backed by either a 15 year warranty (50 mil), 25 year warranty (60 mil) or 30 year warranty (80 mil) so you can have peace of mind that your system will stay strong for years to come. Contact us today for more info or to set up a roof consultation.
While Duro-Last® and Duro-Tuff® are our most recommended and best-selling systems, we are able to install any Duro-Last® roofing product. If there is another product that you feel would be a better solution for your situation please get in touch with us and we'd be happy for provide more information about that specific system.
 Northern Lakes Roofing is an authorized Conklin® roofing installer and we are proud to be able to offer the Flexion XL® system. Flexion® is a PVC single ply system that is available in 60 and 80 mil thicknesses. Flexion® is a phenomenal roofing system that is lightweight but incredibly durable and it has one of the highest impact ratings in the industry. This system comes in rolls that we heat weld in place which makes it incredibly flexible and that we can install it on nearly any type or size of roof. It can also be used for either new roofs or recovers. The Flexion XL® system is backed by a 20 year warranty so you'll know that your new roof is going to work for you. Contact us today to set up a roof consultation. 
We are happy to also be able to offer a great TPO single ply system as an alternative to traditional PVC systems. We use Conklin's® Outpost® TPO as we feel that it is one of the highest quality systems available. TPO is similar to PVC in use and application, but due to the different materials used in the manufacturing process TPO is actually a less expensive option. Outpost® is available in 60 mil and offers a Kevlar® reinforced fastening edge as well as a non-moisture wicking scrim material. This combined with its high tensile strength and puncture resistance make it super tough and long lasting. TPO continues to be a very versatile product that is perfect for a variety of applications and roof sizes. Like PVC, it can be used on both new roofs as well as a reroofing solution. Outpost® is also back by a 20 year warranty. Contact us today to learn more about this great product or to get a custom quote.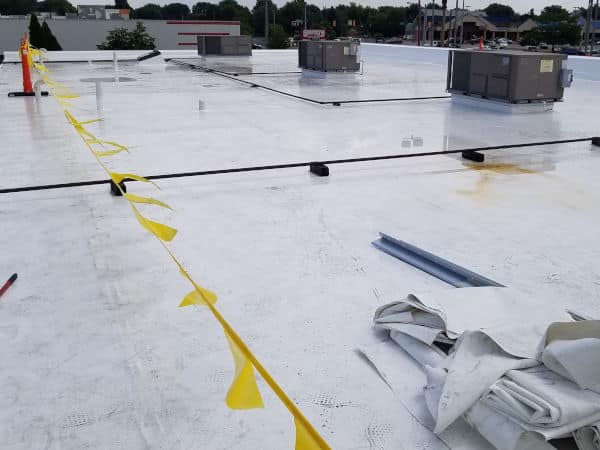 Contact us today to get more information or to set up a free roof assessment!