Roof Coatings & Restoration
We can seal and restore your roof to return it to like new condition
Saves time & money
Less hassle than a full roof replacement
Our White Roof technology offers many energy savings benefits, including reducing cooling costs
Coatings can be applied to virtually every flat or low-slope roof
Metal Restoration system works on most types of steel roofs
Cost effective
Fully warrantied
Little to no tear-off costs as coatings can usually be applied over existing roof
Roof restoration negates the need for a full roof replacement
Often roof restorations and coatings can be written off as a repair cost, unlike a roof replacement which must be capitalized. Check with your tax professional to see if the cost can be written off on current year taxes.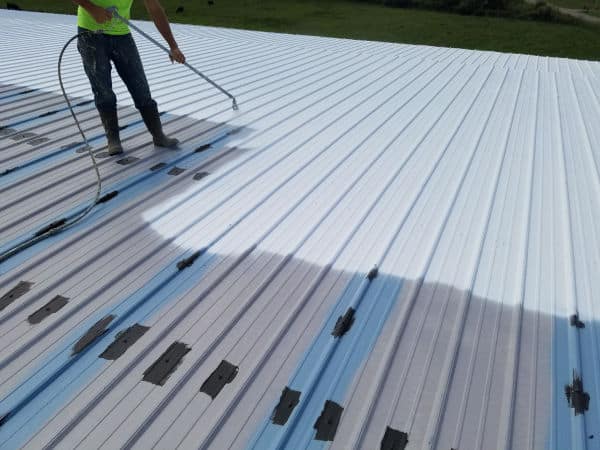 We offer an industry best metal roof restoration system. This system works by creating a seamless barrier that inhibits rust and is completely waterproof. We do this by first covering all exposed fasteners with a premium caulk and then cover and reinforce all of the seams. Everything is then coated with our top of the line acrylic elastomeric roof coating.
This system is both attractive and extremely durable. It is applied over the existing roof so there is not need for tear-off or replacement. Additionally, this coating offers energy savings benefits particularly with the white color as it reflects 85% of the suns rays. This is one of the reasons why white is our most popular color.
Metal Roof Restoration is a durable, cost-effective, and attractive alternative to roof replacement. The best part is that this system can be re-applied so as it ages it can easily be refreshed. We also offer multi-year warranties on all our coatings systems.
Spray Polyurethane Foam (SPF) creates a seamless barrier that is not only waterproof but also insulates your roof at R7/inch. Many building owners prefer this system because it is a lightweight, reliable barrier that withstands the test of time while also being financially advantageous. Our SPF system will provide you with a leak-free roof and exceptional energy savings for years to come.
If you choose to put our highly reflective white top coat onto the SPF you'll see increased energy savings years round. The top coat reflects the sun's rays to keep you cool in the summer and the added insulation value from the spray foam itself will keep your warmer in the winter.
Unlike alternative system, there is not tear-offs in the years to come. An annual cleaning is all that is needed to keep your roof dirt-free and reflective. Once the system does begin wearing out, a simple re-coat is all that's needed to completely restore the system. We also offer multi-year warranties on all of our coatings systems.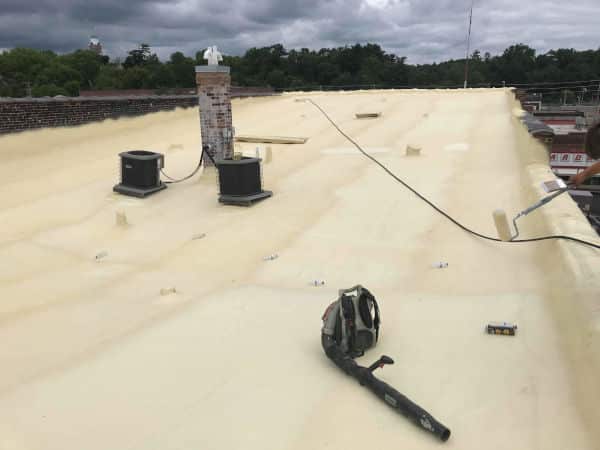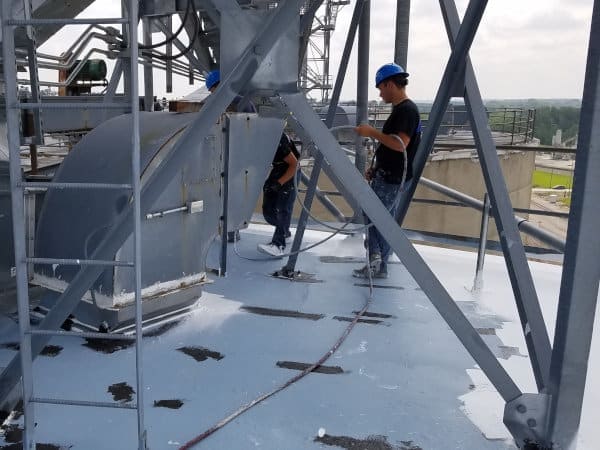 Our membrane restoration systems create a seamless, waterproof barrier over your existing roof. As membranes like EPDM, TPO, and PVC age; they begin to crack, leak, and pick up dirt which diminishes their energy efficient properties. Our restoration system solves all of these in a cost-effective way without the need for any tear-offs.
We do this by first thoroughly cleaning the existing surface, making sure to remove all the built-up dirt and grime so that the new coating will adhere well. We then reinforce all of the seams and seal up any cracks or other compromised areas. We then apply our top coat which creates the seamless, waterproof barrier; making your roof better than new. 
Your new roof will have increased energy efficient properties, especially if you choose to have us apply our white top coat. This reflects the sun's rays which not only will reduce your cooling costs, but will also protect your roof from the damage the of constant expanding and shrinking that comes with temperature fluctuations. Your new roof will be extremely durable and will last for years. Of course, as with all of our coatings, once it begins to age we can simply renew it with a fresh coat. We also back all of our coatings with multi-year warranties.
Contact us today to get more information or to set up a free roof assessment!