We install beautiful shingle, standing seam, and stone coated steel roofs
Long lasting and maintenance free
Beautifully finished
Up to 40 year material warranties available
Wide variety of products, styles, and colors available
Steel roof types are more durable than asphalt shingles
Looks great in commercial, residential, and agricultural applications
Fire and wind resistant
Improved energy efficiency by keeping your home or business cooler
*We have a wide variety of styles and nearly every color imaginable available. Contact us for samples or if you have a specific color in mind.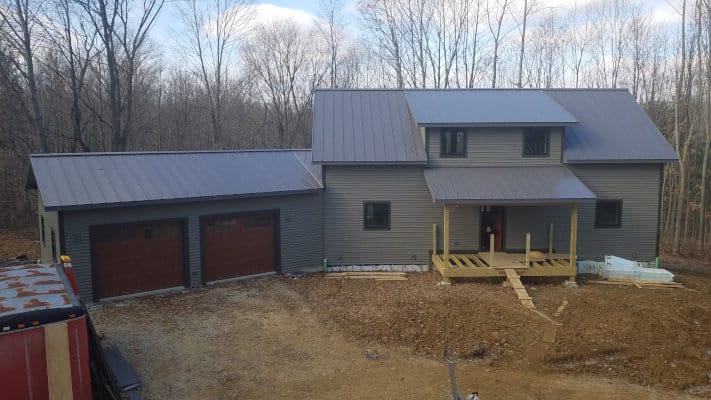 Northern Lakes Roofing prides itself in being able to offer a wide variety of roofing products and solutions. While most of our products are geared more toward commercial applications, our steel roofing products are ideal for both residential and commercial roofs. One of the most popular steel roofing products around is the tried and true steel panel. We do offer traditional Ag panels which are versatile and can be used for home, farm, or shop. However, we will often recommend a standing seam roof over Ag panels as there are many benefits. First is simply the aesthetic of the standing seam roof; it looks cleaner, more modern, and is a beautiful roofing solution.
On a more practical note, one of the great benefits of standing seam is that these roofs are nearly seamless. All of the fasteners are hidden under the panels and because of the way they lock together it is almost impossible for water to penetrate through the seams and fasteners. Standing seam panels are also longer and often one sheet will cover from edge to peak, so there are drastically fewer overlaps for water to work its way under. Unfortunately, this is not the case with Ag panels, because as they age the seams and fasteners weaken and become much more susceptible to leaking. In the end, standing seam roofs are durable, beautiful, and look great on both homes and businesses. Additionally, because of the increased fire protection metal roofs offer many insurance companies may reduce your premium once you have a steel roof installed. We are proud to stand behind our work and offer up to a 40 year material warranty so you can have the peace of mind knowing that your investment will take care of itself if any issues arise. Contact us today to learn more or to get a custom quote.
Here at Northern Lakes Roofing, we are always looking to be able to offer the best products to our customers. One of the newer products to arrive on the steel roofing market is the stone coated steel "shingle". While traditional asphalt shingles are certainly more budget friendly and do look very nice, one of the big drawbacks with them is that on average they need to be replaced every 10-15 years. With a stone coated steel roof you will get an absolutely beautiful roof that is also incredibly tough and will last for many years. These roofs are designed so that the panels lock together to protect the fasteners and also make an incredibly strong barrier that protects from even the heaviest rains and strongest winds. An added benefit is that many times these can be placed over the existing roof with only minimal tear-off needed. Stone coated steel roofs are a perfect solution for both residential and commercial applications.
These panels come in a wide variety of styles like clay, tile, shake, and shingle and there is also an extensive array of color options available. Check with your insurance company as there may be a discount available due to the increased fire protection from having a steel roof. We also offer up to a 40 year material warranty so you can rest assured that your roof will continue protect your home or business for years to come. Contact us today to learn more about this exciting option or to request a custom quote.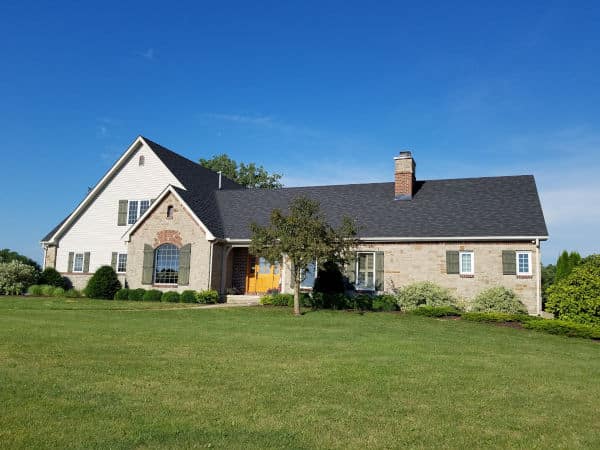 Northern Lakes Roofing is your #1 source for all residential roofing needs. The traditional asphalt shingle is the most common roof type around and we are proud to be able to offer an excellent service for home or office. We offer a variety of shingle styles and colors to be able to match your style and budget. Nothing looks better than a freshly shingled roof.
We offer excellent craftsmanship for all your roofing needs. Our crew shows up on time and works in an efficient and professional way. We pride ourselves on our exceptional customer service and will work closely with you on every step of the process to make sure you get exactly what you are looking for. We also strive to maintain a clean job site and will leave your property looking better than we found when we are done with the project. All of our work is fully warrantied, and we stand behind every job. Contact us today for more information or to get a quote.
Contact us today to get more information or to set up a free roof assessment!